CASWE-ACFTS Annual Virtual Conference 2022
The CASWE-ACFTS Annual 2022 Conference will be held in the Fall on October 28 and 29, with a simpler program. Join us for a two-day virtual experience!
Renewing Change in Social Work Education:
Dismantling, Decolonizing and Reconnecting
Social work education in Canada continues to respond to the challenges of our shared world marked by the ongoing COVID-19 pandemic, global war and violence and ongoing efforts to address anti-Black, anti-Indigenous and anti-Asian racism.  As social work students, staff and faculty navigate the impact of isolation and tentative returns to campus, we have centered the need for (re)connection in this year's Conference call alongside themes focused on dismantling, decolonizing and réalités francophones en formation en travail social (Francophone realities in social work education). 
Re-connecting to ourselves and each other, to the land and our shared visions for and actions towards change in social work education and practice counters the sense of disconnection, isolation and collective fatigue brought on by the COVID-19 pandemic.  We invite you to join us for our virtual fall Conference to (re)connect with students and colleagues from across the country and to share knowledge to help inspire and inform change-making in social work education and practice.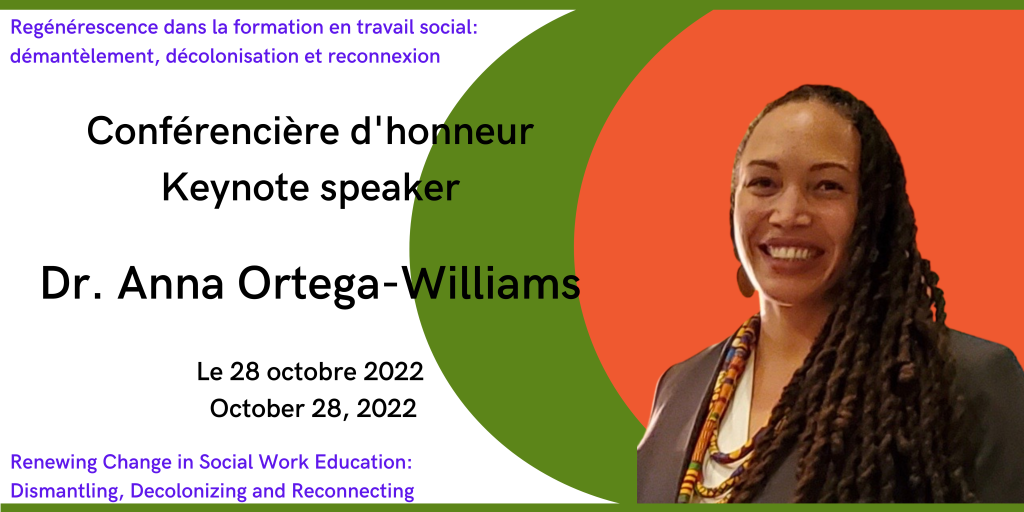 Dr. Anna Ortega-Williams is a Black social work scholar, researcher, educator, and organizer inspired by the healing alchemy of social action as youth development among Black youth. Dr. Ortega-Williams is an Assistant Professor at the Silberman School of Social Work at Hunter College. A social worker since 2001, she focuses on interventions that push the boundary between individual and collective change. Her research centers historical trauma, posttraumatic growth, organizing, healing, and well-being. Her work is informed by social movements, growing up in public housing in the Bronx, and her commitments to joy, healing, imagination and hope while transforming the world.The program and featured speakers coming soon.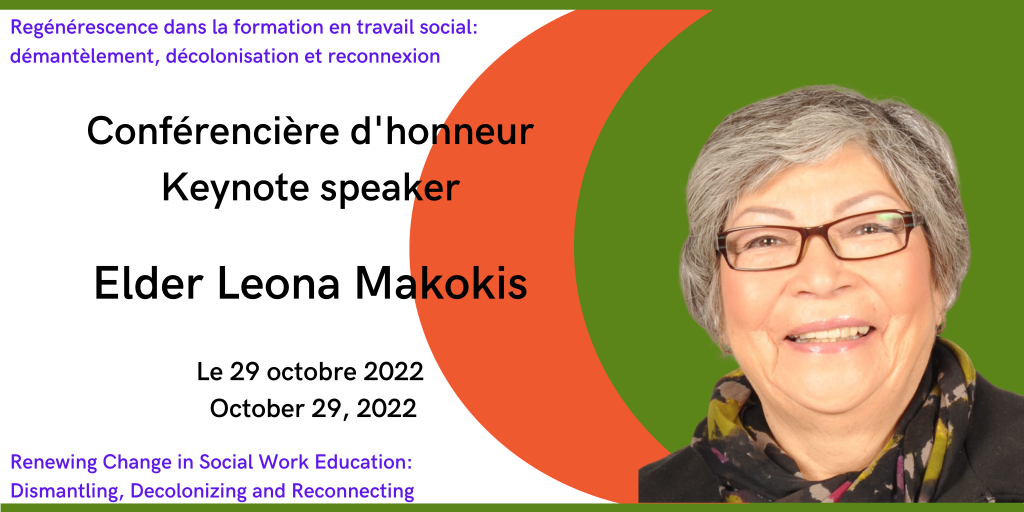 Dr. Leona Makokisi is originally from Saddle Lake Cree Nation and now a Band member of Kehewin Cree Nation.  In the mid-seventies, she was invited by Blue Quills Native Education Authority to instruct a secretarial arts program with Alberta Vocational College. This was the beginning of a long career at Blue Quills First Nations College as Executive Director from 1982 to 1988 and then as president from 1992 until retirement in 2010.  During this time, she also earned a long list of academic credentials including a Bachelor of Administration from Athabasca University, Bachelor of Education from University of Alberta, Master of Arts in Leadership Education from San Diego State University and a Doctorate in Education from University of San Diego.  Through out her tenure at Blue Quills she transformed the College from being only a host campus for other institutions to becoming the first independent accredited Indigenous institution to offer its own degrees. Her diligence and dedication has allowed numerous students to obtain diplomas, degrees in Indigenous knowledge, ceremony, and language.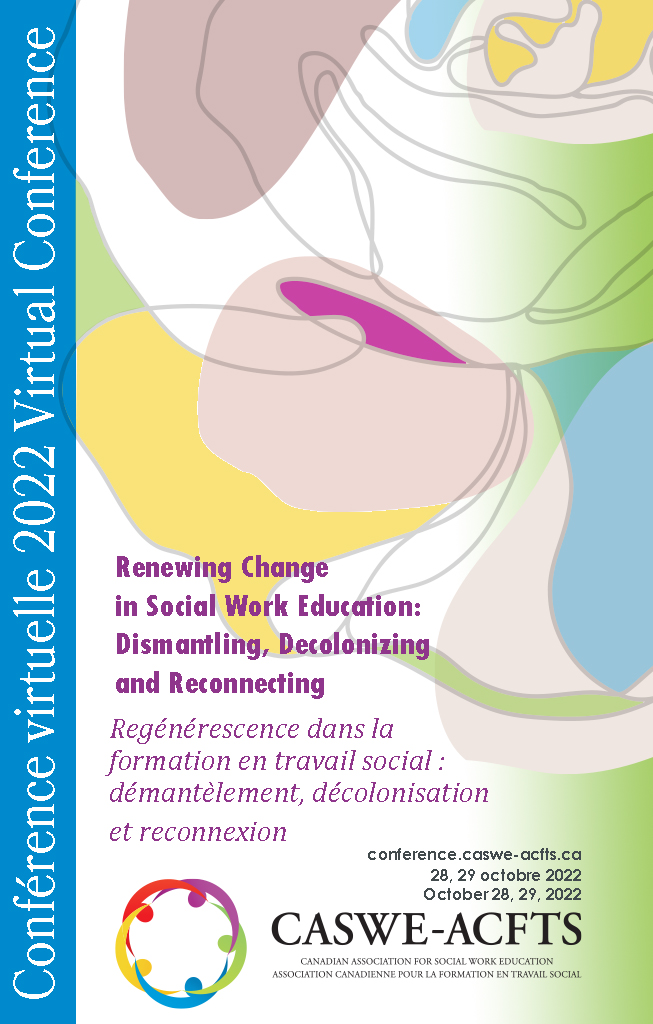 Conference 2022 Registration – NOW OPEN!
Participants in our association conference, can become a CASWE-ACFTS member or renew membership before registering for conference and benefit from a member reduced rate.
Conference 2022 Registration fees for CASWE-ACFTS members
Faculty: $100
Field staff: $90
Students: $20
Friends of the Association $90
Non-Members: $280
EARLY Bird Rates
Early bird rates are available until August 16th, 2022 at noon, ET.
Faculty: $75
Field staff: $65
Student: $20
Friends of the Association: $65
Non Members: $255
Association membership runs from April 1st to March 31st of each year and provides you with many benefits. In order to register for the association conference, you can first become a member and get a reduced rate to attend.
All conference attendees, including presenters, panelists and those wishing to attend sessions, must pay the CASWE-ACFTS conference fee.